The easiest people to have on your gift-buying list are those who have a clear obsession passion. You know who I'm talking about, those friends and relatives who are totally in love with a particular hobby, theme, or pastime.
Zealous coffee drinkers, fervent cat people, adventurous world travelers, and… (my personal favorite) impassioned gardeners. You know what they care deeply about in this world, and you love them dearly for it. 
We gardeners can be a little intense about our gardens. As soon as the garden season is over we're already curled up in our cozy reading chairs salivating over the seed catalogs and counting down the days until spring.
That's why gardeners are one of the easiest groups of people to buy gifts for! We love anything and everything that reminds us of our favorite pastime – vegetables, flowers, nature, insects, chickens, bees, butterflies. 
Recently, I looked around my house at all of the amazing garden-themed items I've bought myself over the years and realized that many of them would make unique garden gifts for other gardeners as well.
So, if you have a dear friend in your life who'd adore an unusual garden gift, here are my absolute favorites.
I own and use the many of the things on this list in my own home and garden. Many of them are handmade by artists and makers and most of them are made in the US. 
I highly encourage you to add as many as you want to your own birthday, holiday, treat-yourself-someday wish list!
This post contains affiliate links.
The Best Unique Garden Gifts For Passionate Gardeners
#1: Gardening T-shirts
I've been gardening for 20 years and have always struggled to find gardening t-shirts I like. So, I decided to partner with women artists and designers to bring to life my ideas for gardening t-shirts I would wear myself!
I recently launched a line of gardening t-shirts that feature one-of-a-kind designs you can't get anywhere else, which is why they're #1 on this unique garden gifts list! There are t-shirts for women, men, and kids in four different designs and lots of bright colors.
Shop all shirts here.
#2: Metal Garden Mug
Use this metal mug in the garden or on a camping trip with no worries about it breaking. It's lightweight, durable and multifunctional.
I ordered several for myself to keep with my camping supplies to easily bring on trips to use for a favorite beverage or a hot meal. Attach it to your bag for easy access on a hike!
Shop metal mugs here.
#3: Ceramic Garden Mugs
Add some personality and a splash of color to your morning coffee or tea ritual! These ceramic mugs have a one of a kind design on them and a colorful rim, handle, and inside.
They come in two colors – orange and turquoise (my favorite color). And they're available in two different designs – Grow Your Own Food and I'd Rather Be Gardening.
Shop ceramic mugs here.
#4: Garden Flags
These vegetable themed flags are hand-printed by an artist in Seattle, WA. They can be hung inside the house to brighten up a dark corner or strung along a garden arbor or fence outside in your yard.
I love mine so much I brought them along on my 12-month sabbatical where they lived over the dinette in our travel trailer and cheerfully reminded me of my garden every day.
You can also choose from a few other designs like flowers, chickens and bees.
Vegetable Garden Flags by Windsparrow Studio
View all of the options here.
#5: Butterfly Mobile
Each year Etsy runs their Design Awards where people submit their art and judges pick the winners. I was browsing through the list and saw this mobile. It reminded me of something my sister would like and I kept thinking of it for days afterwards.
Since she had recently moved into a new house and I ordered this Butterfly Mobile for a housewarming gift. Here's the text she sent me after it was delivered.
I LOVE the present you sent me! It's so awesome. It's a true piece of art. How am I ever going to decide where to hang it?!
Butterflies aren't the only option. The artist also creates mobiles with flowers, fish, feathers, birds, and also lighting and wall decor.
Butterfly Mobile by Expand Life Metal Art
View all mobiles here.
#6: Wooden Knife Rack
For many years my husband kept repeating, "We need something for storing our knives." So, I put it on my secret list of possible birthday and holiday presents. Last year I took a look around Etsy to see if I could find something interesting and stumbled upon these knife racks from Matchless Made.
My husband is an arborist and loves trees, so gifts with wood or tree themes are always a hit.
And what makes this gift even cooler is that I found out the artist lives only about a mile from my house. So, I was able to pick up the gift and meet him. So cool!
There are lots of different sizes of knife racks and various wood types to choose from. I ordered the 10″ live edge walnut and my husband loved it. He immediately hung it on the side of a cabinet next to the sink and we've been using it daily ever since.
Slotted and Magnetic Wall Knife Rack by Matchless Made
#7: Gift Boxes
Recently when a friend was recovering from surgery I wanted to send her a little something to cheer her up. I found a lot of great options for gift boxes put together by various Etsy sellers. Many of them are custom-made, so you can choose what you'd like to send the recipient.
My friend was particularly impressed with the presentation and said it was very fun to open. She's been sending me photos of herself using the various items: tea, bath bomb, pillow spray, candle, and bath salts.
Custom Care Package by Kismet by Me
Or shop all custom gift boxes here.
#8: Fruit & Vegetable Prints
This pair of prints of original illustrations celebrate the summer garden and farmers market season. I actually bought all four seasons for my house I loved them so much. And if you know their style, art can be one of those unique garden gifts for friends and family.
They're made by a designer/illustrator from Minneapolis and all of their paper products are printed locally on 100% post-consumer waste paper and assembled by hand in their studio. They also use a minimal amount of packaging for shipping. 
She also has super cute cards, puzzles, and tea towels with yoga, wine, and beer themes. 
Fruits and Vegetables Print by Redcruiser
Check out all of the options here.
#9: Nature-themed Doorbell
A few summers ago I spent many months updating the color of our house siding from 60's mint green to a more modern slate gray. It was a big job and in between long stretches of painting I had to take breaks to do fun things like order and install a new doorbell to accent my new house color.
After searching Etsy for awhile I settled on the solid red version of this oak leaf doorbell. It's just the pop of color I wanted for the entrance to our cozy home. Made by an artist in New Hampshire.
Her shop also features other types of leaves like sycamore and maple, butterflies, and seashells. Any of these would be on the list of unique garden gifts for a new homeowner!
Nature Doorbells by Stoneleaf Doorbell Shop
Using my favorite trowel to plant kale!
#10: The Best Garden Trowel Ever!
Wow! There are so many different trowels out there and I've tried many of them. During my garage cleaning frenzy recently I got rid of every single trowel I owned except for this one. It's the best, hands down.
I will never buy another trowel again. And in fact, I've had this one for over 10 years and it's holding up great.
I like that its stainless steel and not plastic. I prefer a more narrow trowel instead of the wide models. The red handle makes it easy to find in the garden when I inadvertently put it down somewhere random. I use it for everything from planting seedlings in spring to planting flower bulbs in fall. Made in the US.
By your own Wilcox All Pro Trowel
#11: Hand Pruners
For tasks as diverse as cutting the roots from onions and garlic, to harvesting red peppers, to trimming back perennial plants, the other indispensable tool I use in my garden every single day is my pair of Felco hand pruners.
They basically live in my back pocket when I'm working in the garden!
All Felco tools are very high-quality and made of aluminum and steel in Switzerland. They have a lifetime guarantee and all parts can be replaced.
Grab Felco Hand Pruners here
#12: Seed Storage Container
I used to store all of my seeds in a plastic bin and always had trouble keeping them organized. Then, I saw a few other gardeners on Instagram using this storage container and immediately ordered one for myself. It's technically made for photo storage, but it fits seed packets perfectly!
I ordered two and keep my direct seeded vegetables in one, so I can easily grab it when I go out to plant in the garden. The other one stores the vegetables and flowers I start at home in the winter.
I love how organized my seeds are now!
Seed Storage Container
#13: Garden Sign
The garden signs created by Wirtheim Design Studio would make unique garden gifts for wildlife gardeners, bird watchers, and those who delight in the animals and insects that are part of any healthy garden ecosystem.
Their designs are inspired by the victory garden posters from the 1940's. Check out their shop to find signs, cards, patches, and more.
Made by a small design studio in Portland, OR.
Pollinators Welcome Here Sign by Wirtheim Design Studio
See all of their products here.
#14: Garden Prints
When the weather turns cold and gray outside you can still be surrounded by the colorful vibrancy of your garden if you choose decor that reflects your favorite hobby.
Garden art, coupled with a huge amount of houseplants, keeps me from succumbing to garden withdrawal during the long, cold Wisconsin winter.
If your favorite gardening friend is a gardener and book lover, a unique garden gift for them would be one of these bright and vibrant prints from Katie Daisy, an artist in the Pacific Northwest. She also has notepads, canvas prints, books and calendars.
Garden & A Library Art Print by Katie Daisy
Browse her entire storefront here.
#12: Garden Markers
I'm not a big fan of plastic in the garden, so these metal garden markers caught my eye. They won't be degraded by the sun and rain and should last forever!
Stainless Steel Garden Markers
by Burnett Metal Art

Find out more about all of their metal garden art here.
#13: Gardening Books
I'm a huge book lover and I'm constantly reading, but I don't actually own a lot of books because I don't like clutter! That means the few books that actually make it onto my bookshelf are the best of the best.
Of course, I have my own gardening books on my shelf. My most recent book is Smart Start Garden Planner, which helps you construct a personalized blueprint for what a successful season in your garden looks like. 
Find it here.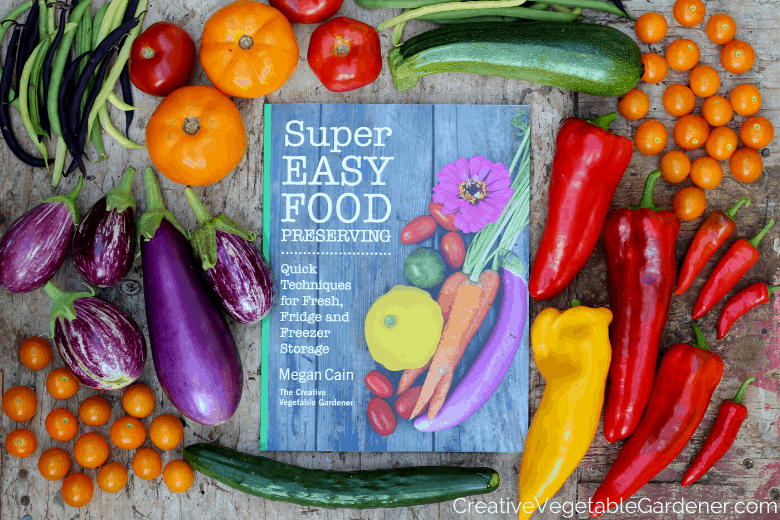 And my first book, Super Easy Food Preserving, teaches you how to fill your pantry with garden produce without spending any time canning. You're learn how to use your basement, fridge, and freezer instead.
Find it here.
You can find lists of some of my favorite gardening and cookbooks here on Bookshop.
And if you love cooking as much as gardening, check out this post:
Vibrant Cookbooks Every Gardener Should Own
#14: Fermentation Supplies
Fermented foods are all the rage these days. You can find them everywhere – farmers markets, grocery stores, restaurant menus, and even on your friend's kitchen countertop (that is if you're friends with me!).
The good news is that fermented foods are extremely healthy for you. But, the bad news is some of the specialty fermented foods can be pretty pricey at the store. Luckily, even though fermentation might sound like a fancy and difficult process, it's actually incredibly simple to make your own fermented vegetables at home.
If there's someone on your gift list who's interested in learning how to ferment their garden vegetables, there's not much they really need to get started – just a book that explains the process and features great recipes and a starter kit. 
I've been fermenting for a few years and the best book I've found is Fermented Vegetables, by Kirsten and Christopher Shockey.
Find it on Amazon here.
Or through an independent bookseller here.

To begin fermenting you also need airlocks, which allow the CO2 to escape, but don't let any air into the ferment which could ruin the batch. They're pretty much a necessity for a successful and easy fermentation. 
I've tried many different lids over the years and the ones manufactured by Masontops are one of my favorites. I would definitely recommend this starter kit along with the book above as the perfect gift for an aspiring fermentista.
#15: Online Class
If you know the garden lover on your list relishes learning new things and building their skills around their favorite hobby, a gift of an online gardening class would be a thoughtful and useful gift.
Most people are incredibly comfortable learning online nowadays, and the benefits of video classes mean they can watch it at their own pace and even re-watch the lessons over again if they want.
I've filmed several how-to video series in my garden over the years covering topics like garden planning, seed starting, food preserving, and herb gardening. 
Check out all of my online classes here.
I hope this list of unique garden gifts has gotten your creative gift giving juices flowing! It's easy to run out to the local big box store and grab a generic garden gift.
But, taking the time to search out artistic, handmade garden gifts allows you to support a real person (instead of a faceless, nameless corporation) and impress the recipient with your thoughtful and meaningful gift.
You can browse my entire collection of favorite handmade unique garden gifts on Etsy here.