One of the big benefits of growing your own food is the ability to plant vegetables you wouldn't find while walking down the produce aisle of your local grocery store.
You can buy orange carrots, green beans, and red tomatoes anywhere.
But, in your garden, you can leave those boring choices behind and choose to grow yellow carrots, purple beans, and orange tomatoes instead.
Growing interesting and unique varieties will infuse a sense of fun and adventure into your gardening season.
Neighbors will stop by and ask about the unusual things you have growing behind your fence, little kids visiting your garden will be pleased to pick colorful produce, and cooking with these beautiful varieties will make the chore of dinner prep something you look forward to rather than dread.
If you're looking to add a little spice to your garden this year, the planting more purple vegetables is a great place to start. There are lots of options for growing this intense color, and it's the perfect visual complement to all of the green tones in the garden.
Pick and choose your favorites from this list of purple vegetables and add them to your garden plan!
A Fun List of Purple Vegetables to Grow in Your Garden This Season
#1: Dancer Eggplant
This is number one on my list of purple vegetables because I've never seen an electric purple color quite like this one on any other vegetable in my garden.
It's a very prolific variety and definitely one to try if you've had challenges growing eggplant in the past. I like the and shape size of the fruit, too. It's a mixture of the fat Italian dark purple and skinny Japanese eggplants. It's shape is plump and long, which makes for easy chopping and cooking.
Find them here.
#2: Royal Snow Peas
Have you ever thought about how much easier it would be to find your ripe peas if they didn't blend in with the plant? Here's your solution!
Say goodbye to coming out to the garden to harvest peas and being disappointed by a bunch of overripe peas you missed the day before because you didn't see them.
Like purple beans, these snow peas will lose some of their purple hues when cooked, so try to eat them raw in salads and other dishes for the brightest pop of color. These are the flat snow pea type, so you can eat the entire thing, no shelling required.
Get these seeds here.
#3: Magic Molly Potatoes
These are a must-grow if you have kids or grandkids who help you in the garden. When I used to work with thousands of kids through the gardening programs I ran, potato harvesting day was one of the highlights of the season. And when the potatoes we were harvesting were purple, it was pure, joyous elation out in the field!
Closer to home, this variety was chosen several years in a row by my 6-year-old neighbor. She tends a small garden bed in my front yard and gets to choose what she grows each season.
She was super excited for purple french fries in the Air Fryer.
Get yours here.
#4: Kolibri Kohlrabi
I like growing kohlrabi in spring when I'm starved for fresh veggies from the garden. They're one of the more quickly growing vegetables. And remind me of some kind of outer space object.
There are white and purple varieties of kohlrabi, but I find that the purple is much more appealing looking than the plain white. 
We love to eat them raw in salads or lightly sauteed in a stir-fry.
Buy purple seeds here.
#5: Purple Tomatillos
My philosophy is this — why grow a green vegetables when you can grow purple vegetables?
When I discovered the existence of purple tomatillos I started planting them right alongside my green ones. Now I have a colorful mixture in my harvest basket. 
How do I eat my tomatillos? I love to roast them to make this Homemade Salsa Verde which I then freeze in glass pint jars or quart freezer bags. We  add it to recipes like enchiladas, fish tacos, and burritos all winter long.
Get purple seeds here. Buy a mix of purple and green here.
#6: Iko Iko Peppers
These peppers are pretty cool because they start out purple, but as they ripen they transform to light purple, light yellow, darker yellow, and then red. Eat them at any stage and always have a rainbow of color in your salads.
I plant around 35 sweet and hot pepper plants in my garden each season. We eat as many as possible fresh, and then ferment and freeze the rest.
If you struggle with growing colored peppers, discover the secrets to growing sweet peppers.
Get your seeds here.
#7: Romanian Red Garlic
I was smitten with this variety last summer when I washed a few off to see their coloring. Of course, I had to grab my camera to snap a few photos.
This is a hardneck Rocambole type garlic that will store for many months in a cool spot in your house or garage. We've had these last in storage all the way until the next July's harvest.
Every fall I plant 220 garlic bulbs in my garden, harvest them the following July, cure them in my garage for a couple of months, and then store most of them in the basement for many months of winter eating.
Read more about how to choose the best garlic varieties for your garden.
Get them here.
#8: Purple Ruffles Basil
Once you see how beautifully ornamental this variety is in your garden you'll want to grow it every year like I do. It tastes and smells great and is a pretty addition to fresh salads and pasta dishes.
Like the idea of whipping up a batch of purple pesto to impress your friends? Unfortunately, purple basil makes more of a grayish pesto. Pretty unappetizing! Try to use it fresh instead.
Purple basil looks particularly striking when you mix it with green basil plants in the same garden bed. 
Find the seeds here.
#9: Red Rubine Brussels Sprouts
What?! Who knew purple brussels sprouts even existed in the world? I didn't until I happened upon the seeds from these beauties at my local nursery last winter.
Of course, as a lover of all purple vegetables, I had to have them. As you can see from the photo above I got a pretty good harvest this past fall. They're not as robust as the green variety I plant, but they taste great roasted in the oven.
Grab some seeds here.
#10: Redbor Kale
If you're as wild about growing kale as I am, you have to try Redbor. It's been on my have-to-grow-every-season list for many years and won't fall off anytime soon.
You can use it fresh in massaged kale salads, easily freeze kale for winter, or throw it in soups, egg dishes, and smoothies. There's not much you can't do with it!
Every year I plant between 10-15 kale plants of various varieties in my garden in April and harvest all the way to December. Kale is one of the most worth it vegetables to grow IMHO.
Get your seeds here.
#11: Redwing Onions
If you want to store onions for winter cooking you need to grow a storage variety, not the more common sweet ones found at most nurseries.
I plant around 500 onions every spring with the goal of eating onions from my garden all year round.
Redwing is one of my top picks for a tasty onion that stores for many, many months in my basement. Sometimes we're still eating these in April or May of the following year. Amazing!
I share lots of tips for growing onions in this article.
Buy seeds here.
 #12: Dragon Tongue Beans
Several years ago when I ran an educational farm for youth, this was one of the kids' favorites. I never could figure out whether it was the name, the colors, or the taste, but every fall when they returned to the farm they would run towards me yelling, "Do we have Dragon Tongue beans this year?"
Try them for yourself and decide which feature is the coolest!
Get seeds here.
#13: Purple Haze Carrots
Carrots are one of my favorite vegetables to grow in the garden and these are at the top of my list. I start planting carrots in successions in early April and plant a few more rows every few weeks through the middle of July. This ensures I have carrots from early summer into the winter.
Purple carrots can sometimes taste more earthy than their orange cousins, but this variety is milder. I also love how there is a little orange mixed in with the purple coloring of the root. It makes for great photos!
Grab some seeds here.
#14: Ruby Perfection Cabbage
If you like to grow cabbage in your garden then make sure you're planting both green and red varieties. The contrast of the two colors is striking both in the garden and the kitchen.
I ferment the majority of cabbage I grow and purchase from my local farmers market. We always have a half-gallon jar of curtido (Central American Sauerkraut) in our fridge to add to tacos, egg dishes, soups, and more. Learn more about my favorite fermented food recipes.
Buy seeds here.
#15: KN Bravo Daikon Radish
Where I live in Wisconsin the gardening season is short and the winter very long. For that reason, I love planting and growing a robust fall garden. And I particularly like vegetables that are extremely cold hardy. 
A few years ago I planted a big bed of various varieties of daikon radishes at the end of July and was pleasantly surprised at how well they did. The seeds germinated quickly and evenly in the heat and dry weather of July. The radishes grew rapidly throughout the late summer and early fall and by mid-fall I was able to start harvesting them. 
As the weather grew colder I covered them with some greenhouse plastic and continued to harvest them into December. We often roast them with other root vegetables like beets and carrots, use them in fermented kim chi, or make these spicy quick pickled radishes from Cookie and Kate. They're a flavorful ingredient to add to our hummus wraps.
These KN Bravo daikon radishes are one of my favorites because of the color! In the late fall and early winter when the landscape around me is gray and brown, there's nothing quite like cutting into a bright purple vegetable at my kitchen counter.
Check out the seeds here.
#16: Garnet Giant Mustard
Like the daikon radish above, mustard greens are extremely cold hardy, which is always a plus in my cold climate garden. The harvest basket above is from a frigid day in early November. I went out to my garden to do a big harvest from my fall/winter garden to keep us stocked for the next several weeks.
The colors and textures of the arugula, mustard, and spinach that day inspired me to run inside, grab my camera, and set up some shots (ignoring my freezing hands!). 
Garnet Giant Mustard will definitely be on my fall planting list for many years to come.
Do you like the sound of harvesting in late fall and early winter? Read more about what to plant in autumn.
Buy seeds here.
#17: Passionflower
I'm ending this list with a flowering vine because you should always mix at least some flowers into your vegetable garden for added pops of color and interest.
I picked up this passionflower vine on a whim at my local farmers market one spring. Even in zone 5a where I live, it grew vigorously on my trellis and even survived the winter to come back again the next spring.
The flower is one of the most intricate and complicated I've ever seen. This is strictly an ornamental vine for me, I don't get any fruit.
Since it's such a vigorous grower, if you live in a warmer climate you might want to check whether this vine would take over your garden before planting it. It is listed as an invasive species in some areas.
Order a plant.
Additional Resources for Growing Unique Vegetable Varieties
Where to find new varieties. When I talk about growing unique varieties like the purple vegetables in this article, a lot of gardeners ask me how I find all of these vegetables.
My favorite seed companies that offer many of these varieties are:
Johhny's Selected Seeds
High Mowing Seeds
Seed Savers Exchange
Botanical Interests
Renee's Garden Seeds
Baker Creek Seeds
Etsy: I gathered some of my favorite varieties from different sellers at this link.
Amazon: Find my recommended varieties, tools, supplies, books and more in my Amazon storefront here.
Request a catalog or look on their websites to be inspired to try some new vegetables and varieties this season.
Grow your own plants at home. Unfortunately, many of these purple vegetables can't be found as plants at local nurseries and farmers markets because they're so unusual.
But, if you start seeds at home, you'll have access to hundreds (thousands!) of interesting, colorful, and unique varieties you won't be able to find anywhere else. 
Once you get the hang of it, growing your own plants at home is an easily repeatable process year after year. I walk you through exactly how to set up your grow light rack, create a planting schedule, and more in my how-to video series about seed starting.
Find even more varieties. If you're excited about discovering and growing interesting varieties of vegetables in your garden beyond this list of purple vegetables, check out the following resources.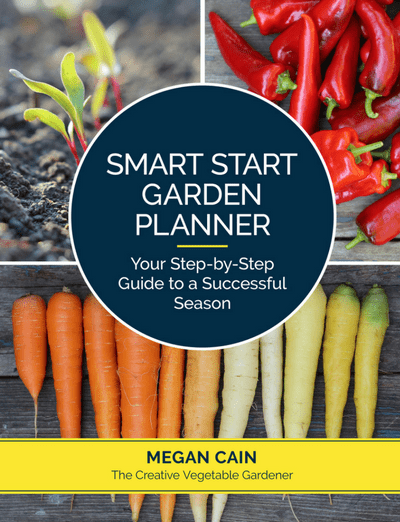 In my book, I share my top 10 unique vegetable and colorful flower varieties. The back of the book also contains a big table of every vegetable you can grow in your garden with my recommended varieties for each.
Grab a copy here.
.


Nikki Jabbour's Veggie Garden Remix is a super fun book that's laid out in a "If you like to grow this, try this instead" format and makes suggestions on how to shake up your garden a bit by growing things that are new to you.
Grab a copy here.
.
Besides vegetables, there are also a lot of really exciting flower varieties out there to grow. Floret Flower Farm is testing so many of them every season and in this book they share the best varieties to grow, how to grow them, and more.
.
I have a few more blog posts featuring favorite varieties:
What Kind of Garlic Should You Plant?
Grow These Unique and Colorful Varieties This Year
How Many Different Varieties Should You Plant?
How to Choose Which Tomatoes to Grow
This season, I encourage you to add some more pops of color to your garden by picking a few varieties from this list of purple vegetables to grow. And while you're at it, make sure to mix in some of the other colors of the rainbow, too!